# FAQ
# The playback is very slow
Once Node Video has created the RAM preview, you'll usually get real-time performance on a second play-through.

How to improve preview speed
High resolution videos(>=4K) will hurt the preview speed
High bitrate videos(>=40000 kb/s) will also hurt the preview speed
You can use "Prefetch" to boost the previewing speed. Please refer to Use Prefetch to Edit Fast
Recommend FPS not to exceed 30
Check if advanced features are used
Optical flow will hurt the Previewing & Exporting speed greatly
Too many effects will also reduce the preview speed
Time remapping that have reverse playback will also be very lagging
# Crash
Most crashes are caused by insufficient memory. We will keep optimizing this problem.
TIP
Try replace the high resolution videos in your project with lower ones
Try reduce your export resolution.
Try reduce the overlapped layer count
Be care of the **Optical Flow**
This feature is the killer feature of NodeVideo but it does not support on most of the devices and causes crash!
# There are Loss of Video Quality after Export
Please refer to Improving Video Export Quality
# I can't open my project
Please export the project as a .zip file and send it to contact@nodevideo.com. We will fix and solve the problem for you.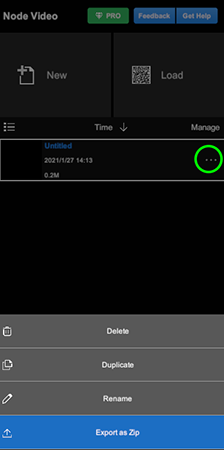 # I can't import video
Please send this video to contact@nodevideo.com to help us solve the problem. You can also try to export the video with other apps and try again.
# No sound when playing video
Please make sure the mute switch is off and the volume is turned up on your device.
# Only a single layer can be previewed
Please change the Preview Render Mode to All Layers in the project setting.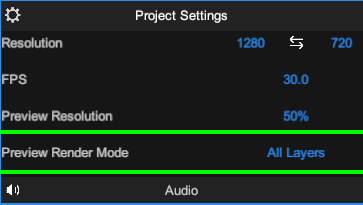 # Optical flow not working(crash, noise, etc.)
It is most likely your device does not support it. We'll continue to work hard on this feature.
# How to lock the landscape & portrait mode
Please lock your device orientation.
Contact Us
Feel free to send a mail to contact@nodevideo if you have any question. We are glad to help.